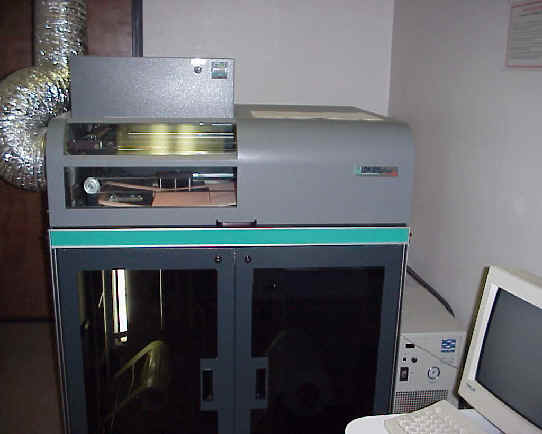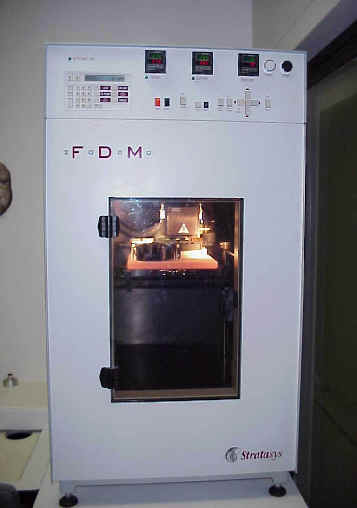 RP BACKGROUND
First, a little about the equipment we are using. We have two machines, LOM (Laminated Object Manufacturing) and FDM (Fused Deposition Modeling). The LOM was DPW's first Rapid prototyping machine. It's a good fit at DPW because it produces a wood like pattern not unlike the method currently use on our shop floor. The FDM produces a hard ABS plastic part which is virtually indestructible.
LOM PROCESS
The LOM (Laminated Object Manufacturing) produces a paper part and has a build envelope of (10" x 15" x 15"). Its accuracy is within (+-.010").
How It Works
First you input a 3D model to the software. The model is sliced every .004", (The thickness of the paper). A 2D cross-section of the 3D model is drawn with the 25 watt laser at a certain Z height. The laser cuts through one .004 layer at a time. As the machine is cutting it cuts a cross-hatch pattern wherever there is no part. That way when the machine is done you have a square block of paper.
FDM PROCESS
This was the second machine we purchased, it produces a hard ABS plastic part. This machine has a build envelope of (10"x 10"x10") It can produce a rubbery elastemer part and wax parts as well. There is a water soluble support material that is available with this machine that is nice for internal holes and hard to remove areas.
How It Works
The FDM works in a similar fashion as the LOM, you impute a 3D model to the software. You can select a cross-section slice thickness from .005 to .014. The model is sliced in the software and the supports are created from the top down. This takes about 3 to 10 minutes, once done you send the file to the machine. It is an easy machine to operate once you have a 3D model, in most cases you can be growing a part in 5 minutes.
It has 2 tips on the head , one squirts ABS and one squirts out BS (a dissimilar material that doesn't stick to the ABS). The BS is the gray support material. It will support any overhangs as the part is being built, so the ABS has something to lay down on when it gets to a certain height.
RP Capabilities
Here are some of the different things you can do with Rapid Prototyping:
Rapid Tooling

Once you have a 3D model the transition into rapid tooling is very simple. If it is determined that RP is the least expensive and simplest way to do the project, we will go for it! Rapid tooling allows you to speed up the design process. Whether its to have castings before the permanent tooling is made or to have castings to check for design flaws, you will be ahead if the game.

Visual Aids

Visual models are helpful for checking form fit and function. Some times it's hard to translate what you see.